A potted history of Hostage International from co-founders Terry Waite & Carlo Laurenzi
A potted history of Hostage International was shared this week as our co-founders Terry Waite and Carlo Laurenzi reminisced about setting up the charity, in front of an audience on Zoom.
As part of our series of events to mark the 30th anniversary of Terry's release from captivity, the duo joined together for a conversation, with our CEO Lara Symons, to talk about how they founded the organisation nearly 20 years ago and how it still remains strongly connected to its roots; providing practical and emotional support to the families of hostages and hostages after their release.
Carlo described the establishment of the charity, "It was like the confluence of two rivers, although my half of the confluence is considerably less dramatic than Terry's."
The two met in 2002. Carlo's solid background in the voluntary sector complemented Terry's personal experience and work as a humanitarian which led them to join forces to meet the desperate needs of the families of hostages, and individuals after their release from captivity.
Terry talked about the challenges of being released after being alone for nearly five years; for most of those years he had been in solitary confinement and not seen anyone, except in his final few weeks as a hostage, because he had always been blindfolded.
Speaking of his arrival back at RAF Lyneham in the UK after his release, Terry said, "There was my family and, do you know, it was totally overwhelming, completely overwhelming, so much so that I couldn't sit down and have a meal with them for two or three weeks; the emotions were so great.
"I realised at that time that it wasn't only me who had to make adjustments but the whole family, and that the difficulties – people so often concentrate on, understandably, the difficulties that face a hostage – a family faces are equally great, and in some cases even more difficult because there's no knowing from the family's point of view, in many instances, whether the person they care for is alive or dead."
Terry spoke of the adjustments of the first year after his release, such as learning to drive again, and then people beginning to directly approach him for support.
"I had requests from so many different people who had either experienced being a hostage or being a family member or a friend of someone taken hostage, who needed understanding, who needed support.

"They always said to me there is no substitute for talking to someone who has been through the experience, either as a hostage or a family member; that in itself can bring great reassurance to people."
Terry provided as much support as he could to people but became increasingly busy and soon realised that in order to provide support into the future things had to be set into an organisation. Meanwhile Carlo, from his role running Prisoners Abroad and a stint working at the Foreign & Commonwealth Office, had been hearing about families and former hostages who were desperate for some kind of rehab and support. He reached out to Terry to ask him for lunch.
Terry explained: "Carlo had heard of things, and he approached me.
"The combination between us, we are both extremely very different people; I am completely ignorant of charity law, how to organise a charity and how to get things properly in order, but Carlo has supreme expertise in this field, so he and I got together."
It was over that lunch nearly 20 years ago that the charity was born. Terry and Carlo were united in their vision to support people affected by hostage taking. They wanted to work at the individual level – rather than at the policy and campaign level – to help people, entirely independent of government or any statutory body, and free from influence from any of the companies in our sector.
Together they pulled together a board of individuals, including people who had been directly affected by hostage-taking.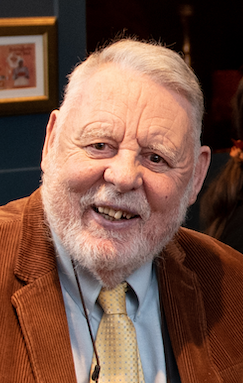 Terry explained: "I've often said that when tragedy strikes, when something really terrible happens – and you could even say that about lockdown too – often within these situations of difficulty and deprivation and misery, often when you look for them there are seeds of new opportunities.
"From my own experience that's how Hostage International was formed.
"Out of a seemingly tragic situation so much creative work has taken place and this is where it isn't just about Carlo and myself, not at all, the fact that a team of workers – and people who are watching tonight, who I imagine are in great sympathy with the work that we do and bring others in – support that work."
Carlo added: "It was really quite humbling for me, as someone who had set up a number of things before, to work with Terry and see just how much of a humanitarian he really is.
"We talk about Terry being a humanitarian, you should see it first-hand. It really was quite an amazing thing. I thought, 'this is it', I know how to do these things, this man really knows how to help people, and I guess the rest is history."
Terry Waite CBE, president of Hostage International, and Carlo Laurenzi OBE, vice-president of Hostage International, were in conversation with Hostage International's CEO Lara Symons to an audience on Zoom on 29 June 2021.
Take part in our next event – Beirut & Back – Challenge for All! – as part of our series to mark the 30th anniversary of Terry's release. Find out more here.
July 2021